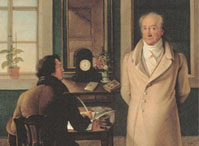 Recherche has a comprehensive collection of links to bibliographic resources for academics. Here you will find books in print, bibliographic databases and bibliographies as well as links to libraries in Germany and other countries. For a complete listing click on Bibliographic Sources.
In the field of Humanities, Recherche contains references to article databases, specific bibliographies and journals, as well as full text archives, focusing on German literature.
The collection of basic Links for Germanists, bibliographies, articles and other academic sources on Goethe, including an annotated Goethe picture gallery, and information on the Jewish-German writer Leo Perutz have been designed for use by scholars and students of German Literature.
In addition there are links to reference works and German newspaper archives.
All the rest of the pages will be in German.
<http://www.isc.meiji.ac.jp/~mmandel/recherche/index-e.html>
Contact, imprint & data use statement