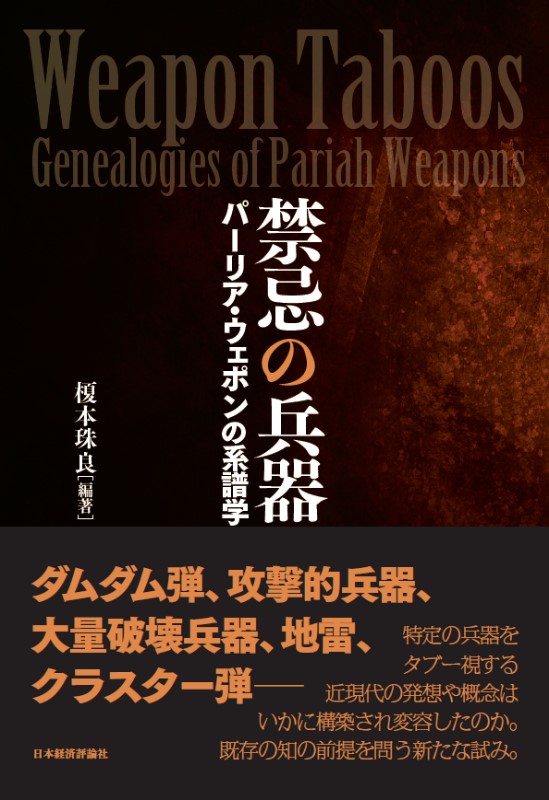 Research on arms control scarcely reflects critically upon the framings underlying arms control policies or on the functions served by the global architecture of arms control.
This book brings together an interdisciplinary group of historians, jurists, and international relations thinkers to critically analyse the conceptual framing of certain types of weapons that made their pariah status possible. It aims to unveil the historical evolution of, and changes in, norms concerning pariah weapons from the nineteenth century to the present.
The book defines "pariah weapons" as weapons that are singled out as "pariahs" (socially despised outcasts) and whose use is treated as taboo in international policy debates in different eras. It does not limit the scope of "pariah weapons" to weapons whose use is explicitly prohibited by legally binding international agreements (such as dum-dum bullets and anti-personnel landmines), but includes those weapons whose use has been considered for prohibition in international policy debates (such as "aggressive weapons" before the Second World War).
The book emphasises the socially constructed way in which weapons are conceptually framed, and challenges the ideas and assumptions that justify the framing of some weapons as pariahs. Rather than uncritically using terms such as 'inhumane weapons', 'WMD' and 'certain conventional weapons', the book examines the specific historical contingency from which such terms and framings of weapons were produced, used, forgotten or re-interpreted. The book challenges the assumptions and ideas underpinning the norms themselves, as well as the social, cultural, political and historical contexts in which the norms were developed. It gives particular salience to the relations between norms, power and political and material interests, and challenges those who argue that the prohibition of particular categories of weapons is unambiguously emancipatory.
TABLE OF CONTENTS
Introduction
Genealogies of Pariah Weapons
Tamara Enomoto
Chapter 1
International Lawyers' Failing
Outlawing Weapons as an Imperfect Project of the Classical Laws of War
Miloš Vec
〈Essay 1〉
  Dum Dum Bullets
  The Boundary Between Civilisation and Barbarism
  Mahito Takeuchi
〈Essay 2〉
  Prohibiting "Future" Weapons
  The Cases of Biological and Chemical Weapons
  Tamara Enomoto
Chapter 2
British Disarmament Policy and "Qualitative Disarmament" in the Inter-War Period
Tomoari Matsunaga
Chapter 3
Dispute on the Prohibition of Aerial Bombing in the Inter-War Period, from the British Point of View
Ken Kotani
〈Essay 3〉
  The British A1E1 Independent Landship
  Fears of the Machine-Gun, Artillery and the Trenches
  Yuji Yamashita
Chapter 4
"Weapons of Mass Destruction"
Historicizing the Concept
Ido Oren and Ty Solomon
Chapter 5
Strategic Taboos
Chemical Weapons and US Foreign Policy
Michelle Bentley
Chapter 6
Convention on Certain Conventional Weapons (CCW)
Conflict and Compromise Between Major and Lesser Military Powers
Seigo Iwamoto
Chapter 7
Construction of "the Landmine Crisis"
The Vulnerable Self and Reinterpretation of International Legal Principles
Tamara Enomoto
Chapter 8
Rethinking Stigmatization of "Inhuman Weapons"
Prohibition of Cluster Munitions and Pro-Ban Actors' Strategies and Techniques
Takeshi Fukuda
〈Essay 4〉
  The Prospects for International Negotiations on Lethal Autonomous Weapons
  System (LAWS)
  Heigo Sato and Takashi Moriyama
〈Essay 5〉
  Reviewing the Ongoing Debate on Why "Killer Drones" Cannot Be Banned
  Takashi Moriyama
Conclusion
The Pariah Weapons Project and Its Challenges
Tamara Enomoto
Afterword
Tamara Enomoto
List of International Agreements
Index